Seastreak Port
Highlands, NJ
326 Shore Drive
Seastreak Ferry Terminal at Highlands
326 Shore Drive - Highlands, NJ 07732
Ticket Office Hours
M-F: 5:00am - 8:30am, 2:00pm - 8:30pm
Sat/Sun: 8:00am - 7:30pm
Port Features
Free Overnight Parking (restrictions apply)
Additional Port Details
Logistical information to help plan better for your trip
Logistics
Cafe La De Da is located inside the ferry terminal. Coffee, tea, hot breakfast sandwiches, bagels, pastries and parfaits are available for purchase in the  morning and evening, Monday through Friday. Try some of their gluten-free and vegan options!
The Highlands terminal is within walking distance of many shops and restaurants.  We also have a lovely beach adjacent to our ticket office – it's a real hidden treasure!
Parking
Parking is free at our main parking lot at 326 Shore Drive, and at our satellite parking lot at 348 Shore Drive.
Overnight parking is available at our satellite parking lot at 348 Shore Drive.  There is no overnight parking allowed at our main lot at 326 Shore Drive.
Any cars left overnight at 326 Shore Drive may be ticketed or towed at owner's expense.
When dropping off or picking up passengers, you are not permitted to stop or sit in any fire zones which includes the entire area along the bulkhead. The bulkhead area is a legal fire zone. Highlands Police enforce restrictions and may issue tickets to cars stopped or sitting in the fire zones.
Valet Services
Sunset Valet services are available Monday through Friday from 6:00 AM through 8:45 PM. Customers may indicate travel times upon arrival and adjust changes via text to the number(s) provided below
SUNSET VALET (732) 513-5686
Passengers departing on the 5:50 AM and 6:40 AM boats can drop keys at the main desk. Valet will be on-site at 7:15 AM.
Rates are as follows:
Daily Rate:                                        $18               Example: Depart 5:50 AM Return 7:30 PM
Overnight less than 24 hours:            $25               Example: Depart 2:50 PM Return following day at 12:20 PM
PAYMENT:  Cash, Check or Venmo (@sunset-valet)  NO CREDIT CARDS
____________________________________________________________________________________
Additional Charges:
Weekend/Holiday arrival, additional        $10
______________________________________________________________________________
Discounts:
Monthly Commuter Rate/mo                  $320                  PREPAID
Summer Discount: Highlands                $950                  Memorial Day-Labor Day; PREPAID
________________________________________________________________________________
There is no overnight parking allowed at the main Highlands terminal.  Free overnight parking, up to a maximum of three nights, is available at our lot located at 348 Shore Drive.
In the event that there is not a Sunset Valet attendant in the parking lot upon your arrival, please leave your car keys with the Seastreak ticket agent inside the floating terminal. The ticket agent will ensure your keys are delivered to the valet. If you have any questions or concerns, feel free to text Fred at (732) 513-5686 to let them know what time you will be returning.
While valet services are offered as an accommodation to Seastreak, LLC's customers, valet services are provided by Sunset Valet AND NOT BY Seastreak, LLC. Sunset is an independent contractor, and is neither an agent of Seastreak, LLC or any of its affiliates, nor is it authorized to act for them or on their behalf. Any and all questions, complaints or claims relating to or arising out of the valet services shall be directed to Sunset Valet and not to Seastreak, LLC, which hereby expressly disclaims any and all liabilities related to such valet services.
Please know that in times of heightened security or extreme weather conditions, local authorities may be forced to remove your vehicle from all parking areas and where overnight parking is normally permitted. Seastreak will not be responsible for any fees associated with you obtaining your vehicle from the tow company.
Sunset Valet will not be responsible for any damage or theft reported after the vehicle leaves the property.
No Idling Notice
Please be advised that Seastreak has posted "No Idling" signs at our Highlands location. We have been informed that the NJDEP will be stepping up its idling enforcement for all vehicles.
Vehicles found idling for more than 3 minutes in the "No Idling Zone" will be issued an immediate $100.00 fine. Please know that there is no grace period for this violation.
The Monmouth County Health Department will be conducting a sweep in the near future.
Please be advised that this is your warning so that the issuance of unnecessary fines can be avoided.
See the New Jersey Department of Environment Protection Administrative Code for further information.
Directions
From South
Take Garden State Parkway North to Exit 105 (Eatontown, Route 36 East). Follow Route 36 East past Monmouth Park until you reach Ocean Avenue (one block west of beach). Make a left on to Ocean Ave and follow north through Monmouth Beach and Sea Bright, then over the Highlands Bridge (before Sandy Hook National Park & beach). Once across the Highlands Bridge, turn right at the second light at Linden Ave. Follow Linden Ave to the stop sign, and turn left on to Waterwitch Ave. Go one block and make the first left on to Shore Drive. Follow Shore Drive until you see the sign on the right for the Seastreak Ferry Terminal.
From North
Take the Garden State Parkway to Exit 117. Follow the signs to Route 36 East. Follow Route 36 approximately 11 miles to the Highlands business district jug handle (Linden Avenue). Follow Linden Ave to the stop sign, and turn left on to Waterwitch Ave. Go one block and make the first left on to Shore Drive. Follow Shore Drive until you see the sign on the right for the Seastreak Ferry Terminal.
Nearby Points of Interest
Need a bite to eat or a place to stay?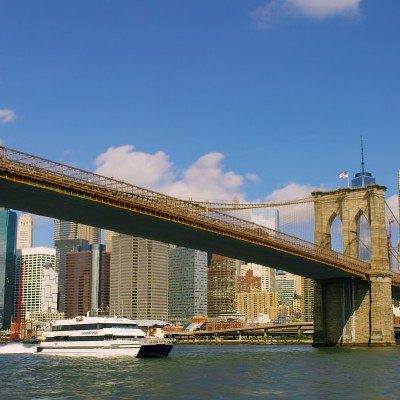 Between New Jersey & New York City
Daily
Belford
Highlands
Atlantic Highlands
Pier 11
East 35th St.
Brookfield Place
Paulus Hook
West 39th St.
Between New Jersey, New York City, & Nantucket, MA
This route will not be operating for the 2023 season.
Highlands
East 35th St.
Oak Bluffs, Martha's Vineyard
Nantucket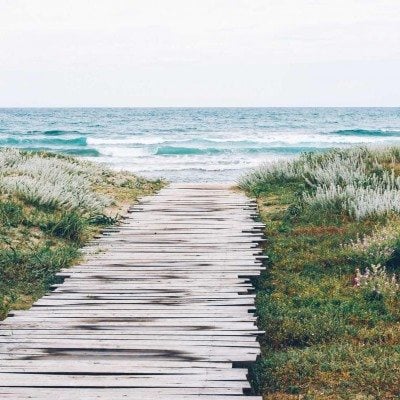 Martha's Vineyard

---

NYC / NJ
Between New Jersey / New York City & Martha's Vineyard
This route will not be operating for the 2023 season.
Highlands
East 35th St.
Oak Bluffs, Martha's Vineyard
Events Accessible by this Port