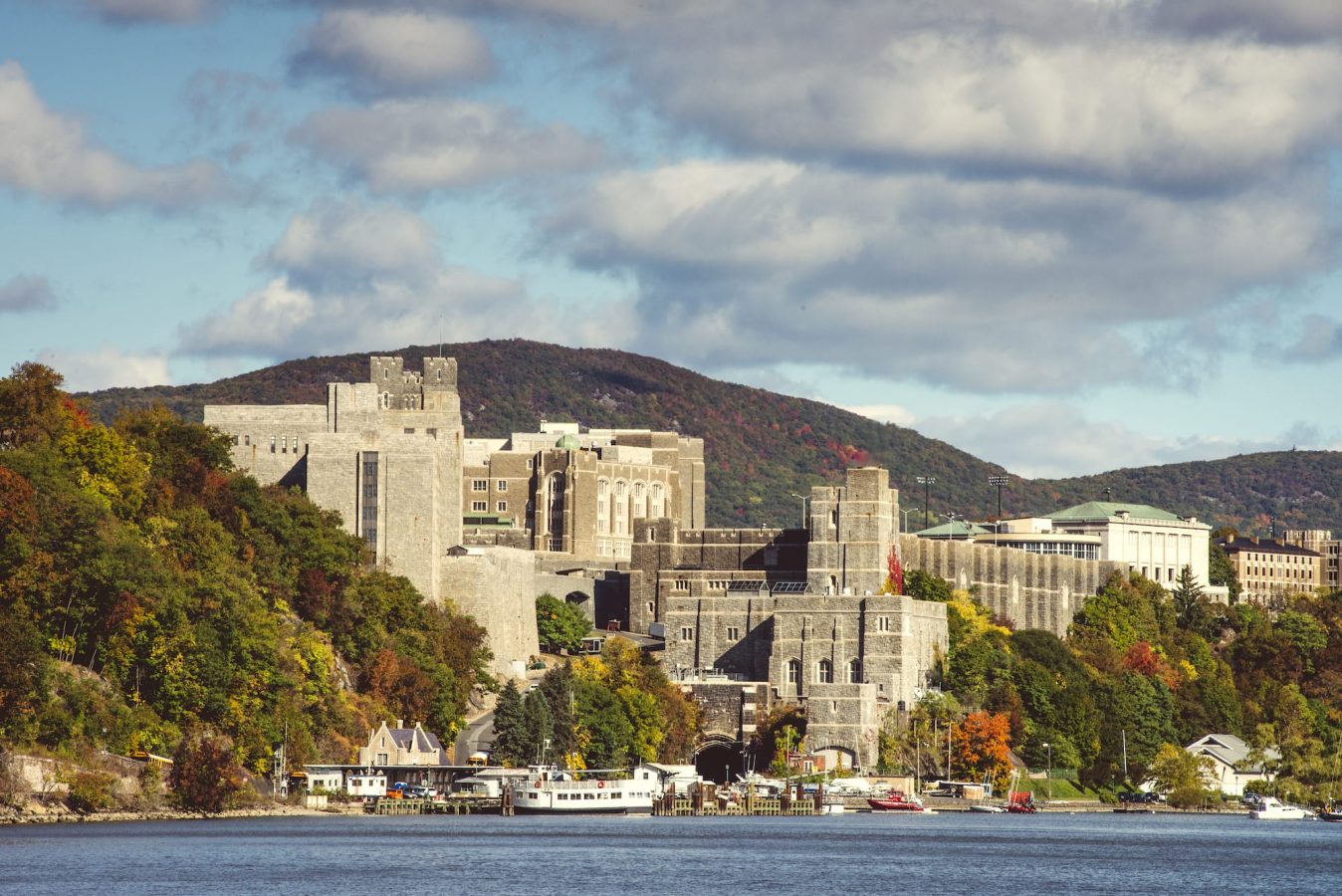 At a Glance
Bring history to life on a West Point campus tour!
Enjoy a beautiful, narrated fall foliage day cruise from NJ and NYC up the Hudson River to West Point for a tour
Select Fridays/Saturdays/Sundays, October and November 2021
All day
Buy Tickets
See Schedule & Pricing
Bring history to life on a West Point campus tour!
Travel to the United States Military Academy via a luxury Seastreak catamaran and join a tour of the facility. Admire the fall foliage lining the shores of the Hudson River as you cruise north while listening to the live narration provided by our host and enjoying a tasty lunch. Upon arrival on campus, you will board a tour bus with a professional guide who will bring you to all the must-see locations!
Learn about West Point's unique place in America's history and its continuing role in shaping the country's future

The 2-hour tour will tell the complete story of West Point, including its role in the Revolution, its famous history, the cadet experience, and stories about graduates who shaped our nation. Once docked, passengers will board a tour bus with a professional guide who will bring you to all the must-see locations. This tour of West Point makes stops to stretch your legs at Cadet Chapel, the Plain (which is the Cadet academic area), West Point Cemetery, Old Cadet Chapel, and Trophy Point with the million-dollar view overlooking the Hudson River. Be sure to wear comfortable shoes – more than an hour of walking is required to explore all the sights!

Tasty lunch and a full-service bar

Lunch will be served on the boat as we approach the destination. Complimentary sandwiches, pasta salads, garden salads and cookies will be available. Passengers may choose to dine on the boat before the tour or take a to-go box to bring on the bus tour at West Point. Passengers who opt to bring a to-go lunch on the bus tour may eat at the West Point Visitors Center.

 In addition to lunch, the bartenders at our full-service bar will be ready to serve you your favorite beverages at any point during the cruise.

Important: Background check requirement

In order to attend the West Point tour, you must have a background check completed. After Seastreak tickets are purchased, customers must click the link with the corresponding date to input accurate ID information so that security can run background checks. You may also find the link to the West Point Tours background check in an email that will be sent to passengers after Seastreak tickets are purchased. If this step is not completed, you will not be able to travel to West Point and refunds will not be issued. Please reach out at 1-800-BOAT-RIDE or contact@seastreak.com if you have any questions.

Additional Background Check Information:

West Point is an active duty military post. All guests are required to submit accurate ID information during the reservation process which security will use to run a background check. All guests must provide the same ID the day of the tour (no photocopies accepted, no exceptions). Reservations will be cancelled if information is missing or inputted incorrectly and/or security will deny access to West Point based on any of the following reasons.

NCIC-III contains criminal arrest information about the individual that causes the senior commander to determine that the person presents a threat to the good order, discipline, or health and safety of the installation.
A claimed identity that cannot be verified based on the reasonable belief that the person submitted fraudulent identity information in the attempt to gain access.
Current arrest warrant in NCIC, regardless of the offense or violation.
Current bar from entry or access to a Federal installation or facility.
Conviction of crimes encompassing sexual assault, armed robbery, rape, child molestation, production or possession of child pornography, trafficking in humans, or drug possession with intent to sell or distribute.
Conviction for espionage, sabotage, sedition, treason, terrorism, or murder.
Being a registered sex offender.
Felony conviction within the last ten years regardless of the offense or violation.
Felony conviction for a firearms or explosives violation regardless of when the conviction occurred.
Engaged in acts or activities designed to overthrow the U.S. Government by force.
Been identified in the NCIC KST file or TSDB report as known to be, or is suspected of being, a terrorist or belonging to an organization with known links to terrorism or support of terrorist activity. Installation access control personnel will strictly follow the FBI's published engagement protocols.

Important: Proof of Vaccine Requirements

Seastreak requires all customers to show "proof of vaccination" before boarding for this trip. If you are not able to provide proof of vaccination while boarding, you will not be allowed to board the vessel. Refunds will not be provided if you are not able to show proof of vaccination. Proof of vaccination is not required for customers who are under the age of 12 years old.   "Proof of vaccination" means proof of receipt of all required doses of a COVID-19 vaccine authorized for emergency use or licensed for use by the U.S. Food and Drug Administration or authorized for emergency use by the World Health Organization. Such proof may be established by:  

i. A CDC COVID-19 Vaccination Record Card or an official immunization record from the jurisdiction, state, or country where the vaccine was administered or a digital or physical photo of such a card or record, reflecting the person's name, vaccine brand, and date administered; or  

ii. A New York City COVID Safe Pass (available to download on Apple and Android smartphone devices); or  

iii. A New York State Excelsior Pass
Schedule & Pricing
Buy your tickets online
Departure Dates (2021 Season):
10/3, 10/8, 10/10, 10/24, 10/29, 10/30, 10/31, 11/5, 11/6, 11/7
Departure and Arrival Times
| | | | | | |
| --- | --- | --- | --- | --- | --- |
| Highlands, NJ Departure | West 39th Street, NYC Departure | West Point, NY Arrival | West Point, NY Departure | West 39th Street, NYC Arrival | Highlands, NJ Arrival |
| 8:10 AM | 9:00 AM | 11:15 AM | 3:00 PM | 5:15 PM | 6:30 PM |
Pricing
Seastreak Ferry Terminal at Highlands
326 Shore Drive - Highlands, NJ 07732View Map
Ticket Office Hours
M-F: 5:00am - 9:00am, 11:30am - 8:30pm
Sat/Sun: 8:00am - 7:30pm
Port Features
Free Overnight Parking (restrictions apply)
West 39th St.
459 12th Avenue - New York, NY 10018View Map
West Point Tour & Fall Foliage Cruise
More Seastreak adventures await…