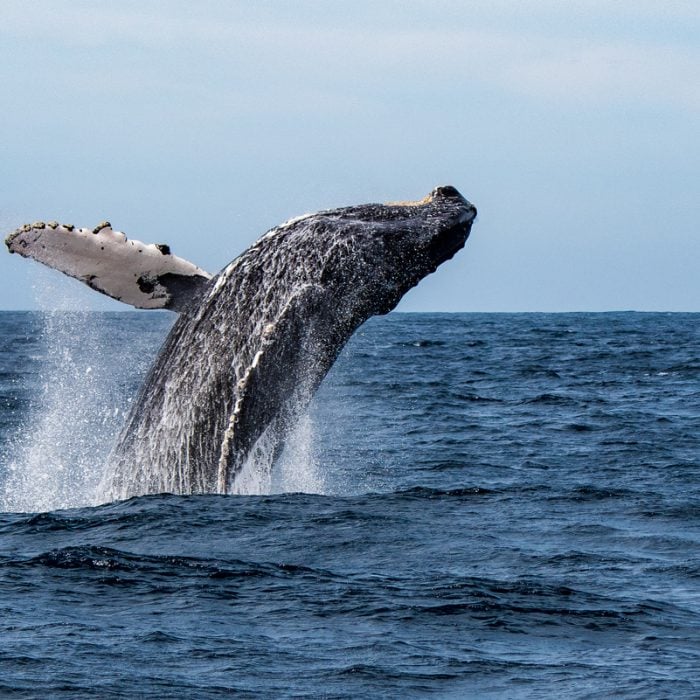 At a Glance
Board a Seastreak ferry in Manhattan, cruise to the Whale Watching grounds, and witness some of the most magnificent creatures in the North Atlantic!
Roundtrip from E. 35th Street and Pier 11 to/from The Whale Watching Grounds Just Offshore
Beginning May 6th and running through October 22nd!
~ 3h
$59 Adults, $34 Children Under 12, $55 Seniors (65+)
Buy Tickets
See Schedule & Pricing
Get Up Close And Personal With Whales, Dolphins & More Magnificent Creatures Of The Sea
Choose Your Port of Departure

Seastreak is now offering separate whale watching departure ports and times for New York City and New Jersey! Now no matter where you are, you have an easy way to get out onto the water and experience this unique tour!

Whales in NYC? Who would have thought...

Actually, whales in NY aren't as uncommon as you might think! In fact, we have found charismatic humpback whales on 90% of our trips.

 

The history of whales in the NY Bight has been tumultuous, but the tide is starting to turn. Commercial whaling along the U.S. east coast in the 1800s and early 1900s had drastic impacts on whale populations. Pollution and unregulated fisheries did not help the problem.

 

With no catch limit placed on menhaden, a small bait fish and the primary prey of humpback whales, the stock quickly depleted and eliminated the ecosystem's ability to support large mammals. For many years, whales were a rare sight in and around NY Harbor. When major environmental legislation like the Endangered Species Act and Marine Mammal Protection Act were passed in the 1970's, an international ban on commercial whaling shortly followed. In 2012, restrictions on the take of menhaden were finally adopted. Today, these restrictions continue to be revised to best suit the needs of the ecosystem and the people who rely on it. Suddenly, whale populations have their first real shot at recovery. The continued, tireless efforts put forth by environmental groups are starting to yield results. The water is becoming healthier, the food chain is being restored, and the whales are returning!

Spectacular Marine Wildlife On View For The Lucky Few

Imagine being just feet away from one of the world's largest mammals in its natural habitat!  Onboard our Whale Watching Cruise, you may see humpback whales, bottlenose dolphins, pelagic birds, sea turtles, and many other species.

A Quick Trip To The Whale Watching Grounds

Our NYC departure docks are conveniently located 30 minutes away from the tip of Sandy Hook, one of the best locations for spotting whales in the New York bight.  The confluence of waters from the Hudson, Raritan, Navesink, and Shrewsbury rivers makes for an especially fertile habitat for many inshore species, including the Menhaden, or Bunker, and most whales just can't get enough of them.

Super Smooth Riding And Luxurious Vessels

Our boats were designed with your comfort and safety in mind.  Each vessel is well equipped with the comforts of home, but with a MUCH better view. We have plenty of spacious airline-style seating spanning across multiple decks, so there is plenty of room to spread out. You can enjoy the view from the outside decks, or sit comfortably inside in the air-conditioned cabin.  Our vessels also offer a fully-stocked bar on all sailings providing beer, wine, spirits, soft drinks, and pre-packaged snacks. In addition, our vessels were designed with both stability and speed in mind, so you can expect a smooth ride while traveling at up to 38 knots (44 mph).

Learn from the Experts

A wildlife expert from the American Littoral Society will be on each cruise to provide species identification support and additional information about the animals spotted. 

 

The American Littoral Society is a coastal conservation non-profit headquartered in Sandy Hook, NJ. Since 1961, the organization has empowered people to care for the coast through advocacy, conservation, and education. They provide a voice for the coast, and give concerned citizens the knowledge and tools they need to raise their voices. Check out their website to learn more about the great work they do, events you can attend or how to become a member.

 

Click here to learn more about the American Littoral Society!

Committed to Responsible Whale Watching

Seastreak is a proud member of Whale SENSE, a voluntary education and recognition program offered to commercial whale watching companies in the U.S. Atlantic and Alaska Regions. The program is sponsored by NOAA Fisheries and Whale and Dolphin Conservation. Developed in collaboration with the whale watching industry, Whale SENSE recognizes companies committed to responsible whale watching practices.
"Who knew that whales were so active that close to NYC? Awesome day on the water!"

Seastreak Whale Watch Customer

"Went today and it was awesome! We saw several whales doing different kinds of feedings. The commentator and crew were excellent."

Seastreak Whale Watch Customer

"I highly recommend this whale watching cruise, it is really a lot of fun."

Seastreak Whale Watch Customer

"The onboard naturalist was awesome! Our kids learned so much!"

Seastreak Whale Watch Customer
Schedule & Pricing
Departure & Arrival Times
Departure Times

East 35th Street Dock, NYC

Pier 11 Dock, NYC

10:00 AM
10:15 AM
Return Times

East 35th Street Dock, NYC

Pier 11 Dock, NYC

1:30 PM
1:15 PM
2023 Season Sailing Dates
| | |
| --- | --- |
| MAY | 6, 13, 20, 27 |
| June | 10, 17, 24 |
| July | 1, 8, 15, 22, 29 |
| August | 5, 6, 12, 13, 19, 20, 26, 27 |
| September | 2, 3, 9, 10, 16, 17 |
| OCTOBER | 22 |
| MONTH | DATES |
Pricing
| | | | |
| --- | --- | --- | --- |
| Adults | Children 12 and Under | Seniors (65+) | Exchange Fee |
| $59 | $34 | $55 | $10 |
An exchange fee will be charged for any changes made to reservations.
Click "Buy Tickets" to Book Your Trip!
East 35th St., NYC Ferry Terminal
East 35th St. and FDR Drive - New York, NY 10002View Map
Port Features
Easy Access to NYC Transit Buses
Pier 11 Ferry Terminal
Pier 11 at South Street - New York, NY 10005View Map
Port Features
Easy Access to NYC Transit Buses
The Whale Watching Cruise is fully narrated by our knowledgeable naturalists who will share information with the passengers about the wildlife we encounter
The full Whale Watching cruise is approximately 3h, and departs from E. 35th Street and Pier 11 Docks
Please arrive approximately 20 minutes prior to departure.
Some Tips From The Wheelhouse:

Bring Sunglasses  Polarized sunglasses cut surface reflection, even on cloudy days, and help you see in more detail.
Bring Your Camera Ideally you will want one with a zoom lens for close-ups.
You Are Welcome To Bring Food and Non-Alcoholic Drinks Soft-sided coolers only, please.
Dogs and balloons are not permitted on this cruise.
Whale Watching (From NYC)
More Seastreak adventures await…