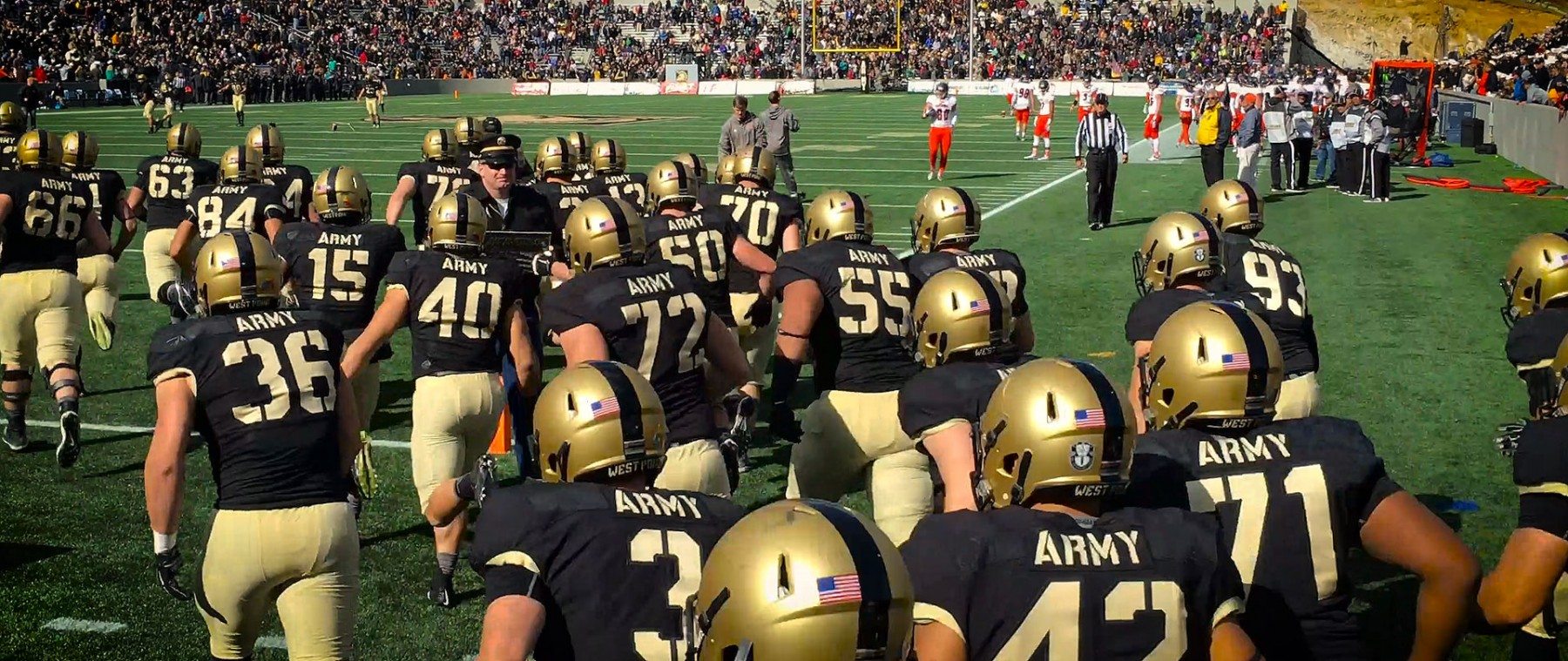 At a Glance
Go to an Army Football game at West Point by ferry from Atlantic Highlands, NJ or Battery Maritime Building Slip 5, NYC to West Point and back, timed to the game. Buy ferry tickets or game + ferry combo tickets through us.
Atlantic Highlands, NJ and New York City to West Point and back
Dates / times vary
~ 2-3h each way, leaves West Point 45min after the game ends
Boat Only prices vary by game. Game+Ferry combo prices vary by game
See Schedule & Pricing
An incredible way to get to an incredible football experience
While we will be unable to sail to West Point games this season, we are looking forward to returning in 2021!
Watching a game at West Point's Michie Stadium is one of the greatest experiences in all of sports. Add a luxury catamaran fall foliage cruise through the New York Harbor and up the scenic Hudson River to the mix and you've got a dream come true. Seastreak ferries will bypass all the traffic from New Jersey and Manhattan while you relax and visit with your friends and family on your way to see Army Football at West Point. We set sail 45 minutes after the game ends back to Battery Maritime Building Slip 5, NYC and Atlantic Highlands, NJ. While onboard, enjoy refreshing cocktails, cold beer, soft drinks, and snacks. Relax on the open-air top deck, or the climate-controlled interior deck while watching pre-game and post-game coverage on the large screen TVs.
Fastest and most enjoyable way to get to West Point

We get you to West Point near Michie Stadium in less than 3 hours, sans traffic and crowded trains or buses. During the cruise, you get to see some of the most enviable views in America.

Combo game tickets available

You can buy a combo package through us that includes a ferry ride and game tickets near other Seastreakers. Save time scouring for game tickets and buy through us!

Tailgate by sea onboard our world-class ferry

During the round-trip cruise enjoy our full-service bar offering cocktails, beer, sodas, coffee, and tea as well as an assortment of game-day snacks for purchase. For the ultimate NYC and Hudson River site-seeing experience, enjoy the breeze on our open top deck with friends and family. Or watch the pre-game/post-game on our TVs sitting in a cozy chair while snacking and relaxing in our climate-controlled cabins with expansive windows and his/her restrooms.
"The day began with a sublime boat ride from the NJ bayshore to New York—a calm, cool, and colorful morning voyage. All the way north, the outdoor air was brisk and the banks of the Hudson River were awash in stunning Fall colors (with photo opportunities galore)."

Greg Kelly of Moremonmouthmusings.net

"We got there thanks to first class service from Seastreak ferry. I highly recommend the excursion. It offers up an exciting and enlightening atmosphere for sports fans of all ages."

Greg Kelly of Moremonmouthmusings.net

"If you have never attended a football game at Michie Stadium, please go ahead and put this on your bucket list of football stadiums that you have to visit at least once in your lifetime."

Dan Van Wie from Stadium Journey

"As for atmosphere, you can't beat the West Point experience. After every Army score, there is a cannon that is fired off from the other side of Lusk Reservoir. Cadets and the Army cheerleaders get down on the field and start cranking out pushups. The higher the score, the more pushups they do."

Dan Van Wie from Stadium Journey
Schedule & Pricing
Choose from 2 Options: All options include roundtrip transportation on our luxury passenger ferry from Atlantic Highlands, NJ or Battery Maritime Building Slip 5, NYC to West Point, complimentary shuttle service from dock to the stadium and back, with a return trip 45 minutes after the game ends.
Boat Only
Cruise to and from Michie Stadium at West Point in luxury and comfort aboard one of our premium passenger ferries. Priceless views of Manhattan and the Hudson River included.
Boat + Game Tickets
Roundtrip transportation to Michie Stadium at West Point plus game tickets for reserved End Zone stadium seating near fellow Seastreakers. This best-value combo package is a winner!
Schedule is in development and will be updated as soon as possible – stay tuned!
Seastreak Ferry Terminal at Atlantic Highlands
2 Simon Lake Drive - Atlantic Highlands, NJ 07716View Map
Ticket Office Hours
M-F: 5:00 am - 1:00 pm
Sat/Sun: closed
Directions, Nearby Amenities, Additional Details
Port Features
Free Overnight Parking (restrictions apply)
Battery Maritime Building, Slip 5
10 South Street - New York, NY 10005View Map
Shuttle Service
To World Financial Center & Citi Building
Directions, Nearby Amenities, Additional Details
Port Features
Easy Access to NYC Transit Buses
Michie Stadium
700 Mills Rd - West Point, NY 10996View Map
West Point requires that ALL passengers 16 and older present a photo ID in order to enter the gates at West Point. Visitors should carry an ID with them at all times while on post. Please inform ALL members of your party.
In addition, due to heightened security at West Point, visitors may need to pass through additional security measures prior to entering Michie Stadium. The following items will not be allowed into the stadium: large bags, backpacks, coolers, umbrellas and all beverage containers (glass or plastic). Please plan accordingly.
If you are unable to complete your reservation online with us, please call 1-800-BOATRIDE (1-800-262-8743) and we will be happy to assist you.
Travel time is approximately 2-3h each way.
Boat will depart West Point exactly 45 minutes after the game ends for its return to Manhattan and New Jersey.
Cancellation Policy: If a football game is cancelled prior to departure, you will receive a full refund. In the event the football game is cancelled after we depart from your purchased port, or if the game is cancelled while being played, NO refund will be given.
The date and time for an events departure or arrival are subject to change by the event venue; such rescheduling does not constitute cancellation on the part of Seastreak. If there is a change in time, Seastreak will notify you by phone or email.
Seastreak will not be responsible for transportation to any make-up games.
All purchases related to this event are non-refundable and non-exchangeable.
Read a recent review of our cruise to West Point for Army Football here!
More Seastreak adventures await…