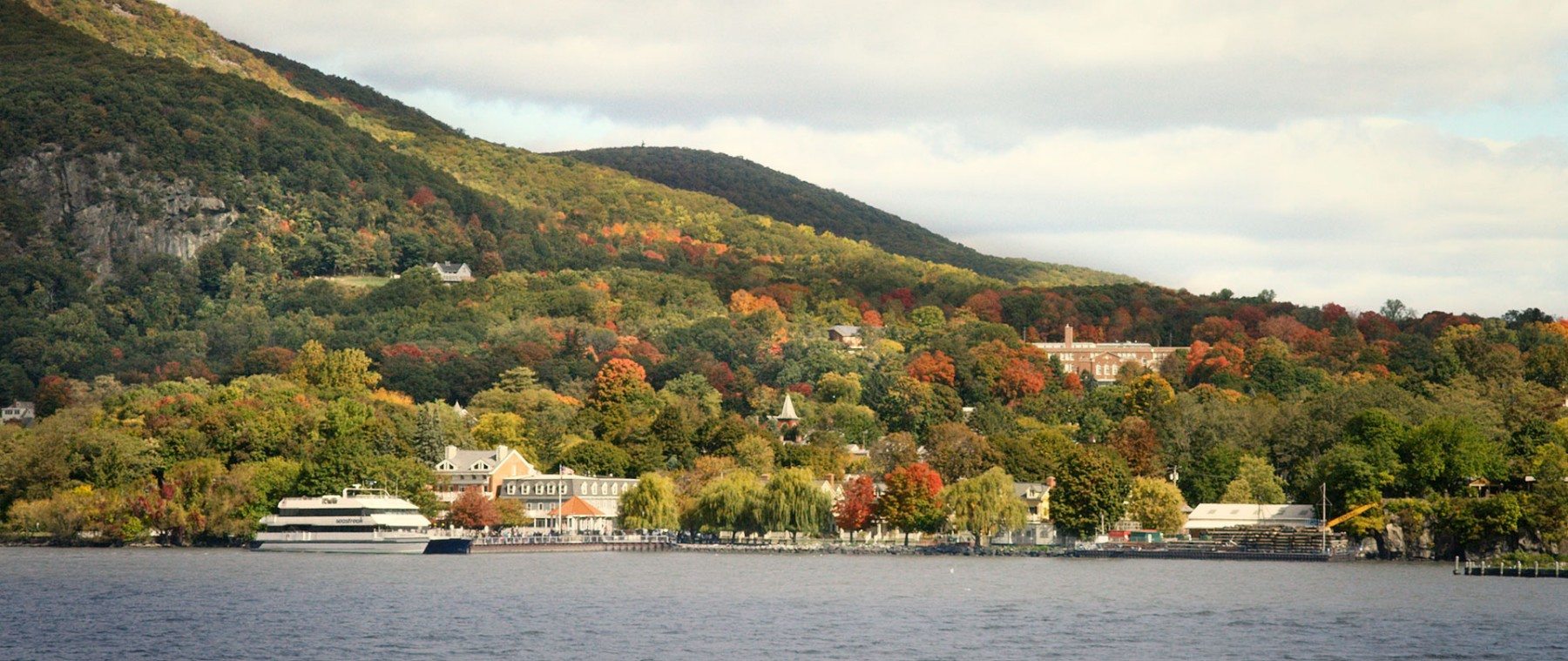 At a Glance
Enjoy a beautiful, narrated fall foliage cruise from NJ and NYC up the Hudson River to Cold Spring
Enjoy a beautiful, narrated fall foliage day cruise from NJ and NYC up the Hudson River
Weekends, September 16-November 13
All day with stopover
$89 (Age 13+), $45 (Age 3-12), or Free (Age 0-2)
See Schedule & Pricing
2022 Season Ended! Please check back later for 2023 Information and Dates!

A breathtaking river cruise of fall colors
New York is bursting out in a brilliant autumn kaleidoscope. Make the most of it by cruising up the tree-lined Hudson River to historic Cold Spring, NY, aboard a state-of-the-art Seastreak catamaran. Relax and enjoy an ever-changing view of the fiery red, glowing orange, and golden yellow foliage that makes the Hudson River an international fall destination. During the cruise up to Cold Spring, you'll enjoy a narrated tour provided by our professional guide!
We'll stop in Cold Spring, NY for the afternoon where you'll have almost four hours to dine at one of the many local eateries and explore the neat shops in one of New York's most idyllic villages. We'll return mid-afternoon in time to see the autumn colors by sunset and New York City start to light up for the night.
Gorgeous fall foliage up and down the Hudson River

We'll follow the majestic river as she meanders under the George Washington Bridge, past the Cloisters, and catch some breathtaking views of the Palisades. We'll see the rolling tree-filled hills and shores of Hastings-on-the-Hudson, Tarrytown, Ossining, Croton Point, Haverstraw, Stony Point, Bear Mountain, and West Point.

Farm-to-table foods, local artisans and boutiques, and a 19th century waterfront main street

Enjoy a gourmet meal and boutique shopping in Cold Spring by the water in this historic, 1800s village main street. Get your artisan holiday gifts and one-of-a-kind decorations early or just enjoy strolling the Victorian streets, houses, and shops.

Full-service bar, indoor/outdoor seating, and private restrooms

Relax and unwind during the cruise in our open-air top deck or indoors in our climate-controlled cabins with 360 degree panoramic windows, comfortable seating, a full-service bar, and the convenience of private his/hers restrooms.

Stay for the weekend!

Want to extend your time away? Come one day, and head back the other! While lodging options in Cold Spring directly are very limited, there are many lodging options available in nearby Beacon. Click here to view the information sheet for Beacon, which in addition to lodging options also has options for entertainment and things to do!

To get to Beacon, it's a quick train ride – and trains leave every hour from Cold Spring so it's a convenient way to get there! To view the train schedule, click here. Just add departure point and destination, and you'll be presented with the schedule.

Important Message from the town of Cold Spring

Cold Spring Village has been in a severe drought for the past month and a half. We are asking everyone to make every effort to conserve tap water whenever possible during your visit here.
"Went 2 weekends ago for the 3rd time of the last 3 years. Always fun, something new to see every time, well worth the money. Will be going again next year!!"

Allison G

"I have taken this trip with Seastreak up the Hudson & it was one of the most delightful ways to spend a Fall day!"

Arlene L.

"We have done this trip several times - spectacular!!"

Seastreak Customer

"I love Seastreak, and this was my favorite trip of the year! The ferry ride was smooth, comfortable, and enjoyable and the views breathtaking."

Seastreak Customer

"We love that Seastreak offers these quaint day trips that we can share with our friends. The boat is quite comfortable with a full bar and food. If you're lucky enough to grab seating with a table it really makes the trip quite relaxing, you can sit around and chat with your friends while enjoying the beautiful scenery all around. They even had someone pointing out historical and interesting fun facts during the trip up the Hudson. We often use the Seastreak to go to Yankee games, best way to travel!"

J. H.
Schedule & Pricing
Buy your tickets online.
Departure Dates (2022 Season)
| | | | |
| --- | --- | --- | --- |
| — | — | 9/17 | — |
| — | 9/23 | 9/24 | 9/25 |
| — | 9/30 | 10/1 | 10/2 |
| — | 10/7 | 10/8 | 10/9 |
| 10/10 | 10/14 | 10/15 | 10/16 |
| — | 10/21 | 10/22 | 10/23 |
| — | 10/28 | 10/29 | 10/30 |
| — | — | 11/5 | 11/6 |
| — | — | 11/12 | 11/13 |
| Mondays | Fridays | Saturdays | Sundays |
Departure and Arrival Times
| | | | | | |
| --- | --- | --- | --- | --- | --- |
| Highlands, NJ Departure | Pier 11/Wall St., NYC Departure | Cold Spring, NY Arrival | Cold Spring, NY Departure | Pier 11/Wall St., NYC Arrival | Highlands, NJ Arrival |
| 8:10 AM | 9:10 AM | 11:20 AM | 4:00 PM | 6:00 PM | 7:00 PM |
Pricing
| | | | | |
| --- | --- | --- | --- | --- |
| Adults | Children (Ages 3-12) | Infants (Ages 0-2) | Bike Round Trip | Exchange Fee |
| $89 | $45 | Free* | $10 | $10 |
| One Way $49 | One Way $25 | Free* | One Way $5 |   |
* Infants ride free, but need a ticket. Please add infants to your reservation, if needed. 
An exchange fee (per booking) will be charged for any changes made to reservations.
Seastreak Ferry Terminal at Highlands
326 Shore Drive - Highlands, NJ 07732View Map
Ticket Office Hours
M-F: 5:00am - 8:30am, 11:30am - 8:30pm
Sat/Sun: 8:00am - 7:30pm
Port Features
Free Overnight Parking (restrictions apply)
Pier 11 Ferry Terminal
Pier 11 at South Street - New York, NY 10005View Map
Port Features
Easy Access to NYC Transit Buses
Cold Spring, NY
5 New St - Cold Spring, NY 10516View Map
Just walking down Main Street gives one a stroll into the past, with great shopping and eating thrown in for good measure. For architecture buffs one is dazzled by the Colonial and Victorian architectural styles in this beautifully preserved 19th-century village. Take a walk down any side street and you will be even more dazzled by all the little gardens and architectural details of the old homes that make up the village.
Cold Spring's Main Street is a unique collection of stores that slope down to the east bank of the Hudson. Stores include antique shops, coffee houses, restaurants with outdoor dining, and river's edge park areas with a Gazebo & benches overlooking the Hudson.
Check out Coldspringliving.com for lots of great local information about places to explore and things to do on your next visit to this quaint village.
Here is a great article in Time Out New York about their recent visit to Cold Spring.
Here is a booklet listing exclusive discounts available to Seastreak customers: CS Express 8-18 2
Check out a great map of Cold Spring attractions and businesses here: Cold Spring Merchants Map
For more information about the village of Cold Spring: coldspringliving.com.
This event is NOT returnable or exchangeable.
Please note that in order to explore the main part of the village of Cold Spring, NY, there are two options:

You may walk up Main St. and under the railroad tracks via the pedestrian tunnel which requires climbing some stairs.
To avoid stairs you can cross over the tracks via the overpass at Lunn Terrace or via the elevator and the walking bridge at the train station on Market St
More Seastreak adventures await…