Oktoberfest was originally held in honor of Bavarian Prince Ludwig's marriage to Princess Therese of Saxe-Hildburghausen on October 17, 1810. Although it is still widely celebrated in Germany, it has evolved into a celebration of Bavarian culture as opposed to a celebration of the marriage between King Ludwig and Queen Therese.  (He wasn't very faithful anyway.)
The festivities are filled with quintessential Bavarian traditions, foods, and, you guessed it, beer.  You might be wondering why Germans get to have all the fun because Oktoberfest sounds pretty amazing.  Instead of booking a ticket to Munich, spend a fraction of the money and book a ticket to cruise to Seastreak's Oktoberfest in Highlands, NJ!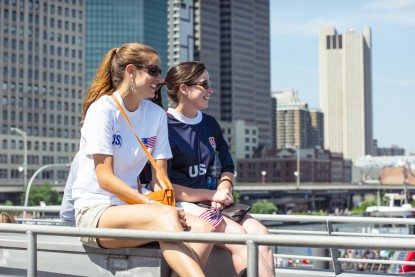 Enjoy the beautiful fall foliage as you make your way to Oktoberfest via a Seastreak ferry.  Once you're there, hop off the boat and prepare to party like it's 1810.  Try a pretzel or bratwurst, dance to polka, and drink a stein of classic German beer.  Experience Bavarian customs like you never have before and embrace the festive atmosphere of this yearly tradition, without having to take an overnight flight!
Admission to Oktoberfest is free, but skip the parking fee and the headache by taking our ferry from Manhattan instead.  Adult tickets are $45 and child tickets are $17.  Or, if you're feeling cheeky, you can save $10 off your adult ticket by dressing-up in traditional Oktoberfest outfits! The boat departs the city at either 10:25 am from Wall St., or 10:45 am from East 35th.  The ride to Highlands is both relaxing and beautiful, whether you want to catch up on your sleep in our cushioned seats or take in the breathtaking scenery on the Hudson River.  Trips run every Saturday and Sunday from September 26th until October 31st, but you can buy tickets in advance here!  Or, click here for more details!
Do you plan on going to Seastreak's Oktoberfest this year? If so, what German tradition are you excited to partake in? Send us a picture of your favorite part of Oktoberfest, and we'll post it on our Facebook page!
Sea you soon,
The Seastreak Family
---
Filed Under: Bear Mountain Oktoberfest, Destination Guides