At Seastreak, we take pride in the history of our organization, and in the significant investments we are making in our fleet and our ticketing technology.  The following article from Shippax helps to detail the genesis of our company, and the strides we are taking to maintain our preeminence in the fast passenger ferry industry.

"Seastreak president Jim Barker demonstrates that ambition and tradition are inseparable twins in the US fast ferry operator's corporate culture. The company is reaching for further impressive growth after boosting capacity with a much-needed newbuild – but its roots remain firmly planted in family values.
New York's iconic Manhattan skyline is distant but clearly visible across the water from Atlantic Highlands, a quaint slice of small-town America on the shores of the neighbouring state of New Jersey. They might seem worlds apart, but these vastly different communities are strongly connected by much more than the view.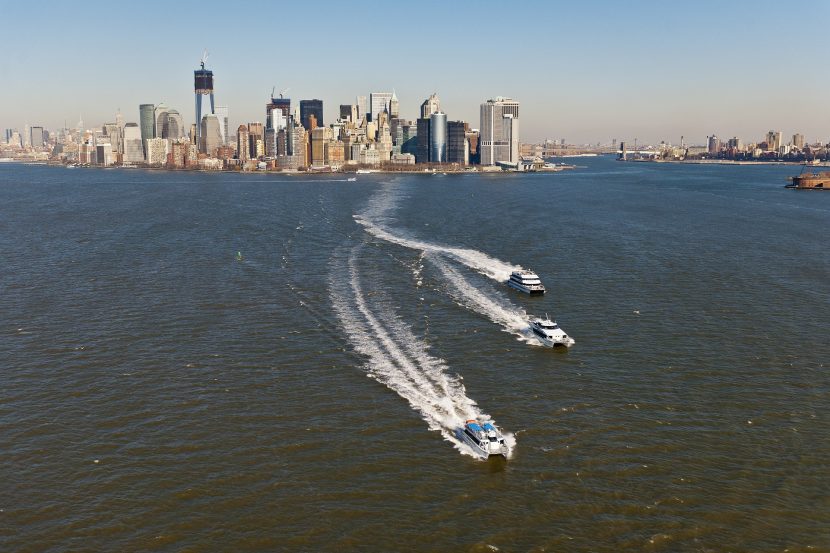 Atlantic Highlands is headquarters to fast ferry operator Seastreak, which runs a bustling, year round, seven days a week commuter service to New York from its home base and nearby Highlands, another little township in prosperous Monmouth County.  Many of the county's residents are finance professionals who represent a major proportion of the company's commuters.   Offering up to 14 round trips per day from early morning to late evening, the service currently carries more than one million passengers per year.  It's the core activity in an operation that also includes a comprehensive excursions programme on the New York route and seasonal tourist services in New England, which together add a further half million passengers to the annual total.
With demand beginning to outstrip supply, the owners have now introduced their first new vessel since acquiring Seastreak in 2007 after former operator Sea Containers filed for bankruptcy.  Underlining a notable turnaround in the company's health, the USD 13 million order for its 600-passenger catamaran SEASTREAK COMMODORE was placed in September 2016.  Designed by Australia's Incat Crowther, it was announced as the major element of a USD 24 million investment programme that also includes re-powering and interior upgrades for three vessels in the existing fleet of seven twin-hulled passenger-only Incat Crowther designs.
Seastreak's 53-year-old president Jim Barker is the elder son of James R. Barker, who is still an active patriarch in a multi-faceted family enterprise launched in 1987 when he acquired legendary Great Lakes ore carrier the Interlake Steamship Company – now run by Jim's younger brother Mark.
Seastreak has seen a marked change of fortune since its acquisition a decade ago.  With revenue increases of 8-10% every year since 2008, it's a tight-run but notably united ship.  The company employs around 100 in low season, rising to 160 in high season, of which 80% are vessel crew. About 10% of these are ex-ocean going seamen, while other crew members are often former deckhands recruited from the region's commercial fishing fleet.
Teamwork is in the blood.  Like his father, Jim spent his teenage summers as a deckhand and stresses: "My dad made a point of going on every Great Lakes ship to know the crew and it's the same here."
Sowing the seeds
The origins of the Barker legacy stem from 1971, when Barker senior was a 35-year-old maritime consultant.  His clients included Moore McCormack Lines, once renowned as the largest carrier of coffee from South America to the US but then suffering heavy losses under weak management.  His advice was so well received that he was asked to head the company – and duly became the youngest CEO of a major American corporation.  During 16 years in the post, he drove widespread diversification that included the purchase of Interlake – where he had started his merchant shipping career after four years in the US Coast Guard – which he subsequently acquired in a management buyout that launched the family business.
Now the next generation is tasting success at Seastreak.  As Jim notes: "Commuter traffic has grown 5% in each of the past five years and we are reaching capacity.  In 2017 we hit the million passenger mark by the end of November, a month earlier than in 2016.  That's why we need the new boat."
Due to launch in April this year, the newbuild – prophetically heralded as first in the Commodore class – will operate primarily on the heavily subscribed New York commuter service, where it will join the four 505-passenger vessels acquired from Sea Containers.  The route links the two New Jersey terminals with the Pier 11 Wall Street and East 35th Street public berths in Manhattan, the city's financial centre, and includes free shuttle bus transfers at peak times.
At a scheduled service speed of 35 knots, the journey of 22 nautical miles takes as little as 38 minutes.    The sea crossing compares with a road distance of around 50 miles.  According to a Seastreak survey, their commuters cut travel time by an average of 75 minutes per day and even more on a bad day, when the road trip can take two hours each way. Unsurprisingly, Seastreak's marketing – which is primarily web-based – champions the service as the 'peace and beauty' option offering 'the fastest and most comfortable way to get to work…traffic, noisy trains and crowded buses NOT included'.
The company acknowledges that its fares are higher than rival modes and appear expensive compared with driving. The one-way charge is USD 27 and a return ticket costs USD 46.  However, regular customers can get discounts with a multi-trip book.  Ten tickets cost USD 211 but 70% of all passengers buy a 40-ticket book for USD 675, equivalent to a month's travel at less than USD 17 per crossing.  As such, Seastreak claims to offer a more cost-efficient alternative to commuting by car when fuel costs, vehicle wear & tear, tolls and city parking charges are taken into account.  Furthermore, parking is free at the New Jersey terminals, where a combined 16 acres of available parking is provided. Space at the Atlantic Highlands lot was increased two years ago when the company bought an additional 1.5 acres, adding to the previous four acres of available parking – a deal that, together with the fleet expansion initiative, addressed one of the main factors inhibiting future growth.
While fares need to be competitive, a glance at the parked cars – mostly high-end BMW, Jaguar, Jeep, and Mercedes models – suggests that cost is not exactly a predominant consideration for the typical Seastreak commuter – reflecting the number of highly paid professionals who have settled in Monmouth County as a lifestyle alternative to their place of work.  The county has also found favour as home to New Jersey-born rock stars Bruce Springsteen and Jon Bon Jovi, who have been known to use the Seastreak connection.
Apart from business commuters, Seastreak also caters for leisure travellers with a wide range of special event, city sightseeing and excursion packages on its New York route.  Attractions include college football games at West Point military academy, Fourth of July and Thanksgiving Day celebrations, New Year's Eve dinner-dances and 'Fall Foliage' tours.  From May to September, there are several daily departures for outings to the New Jersey peninsula of Sandy Hook, including bus shuttles to four of its popular beaches.  Full-boat charter for corporate and private functions is also available, with or without catering and entertainment
Further afield, the seasonal May to October New England operation features some of America's best-known vacation and getaway destinations.  In Massachusetts, Seastreak ferries connect New Bedford – which is served by an optional coach shuttle from Boston – with famed islands Martha's Vineyard in an hour and Nantucket in a further 35 minutes.
At weekends, Martha's Vineyard and Nantucket are also destinations from New Jersey and New York on what is North America's longest high speed ferry route.  Friday northbound and Sunday return sailings depart in the afternoon and arrive in the evening, taking about five hours.
Building the dream
The seasonal offering reflects Jim Barker's 2003 heritage as founder of New England Fast Ferries (NEFF), a three-vessel operation that switched to the Seastreak banner after the Sea Containers deal.  The New Jersey-New York commuter service originated in 1986 as TNT Hydrolines, part of Australian parent company TNT's shipping division.  In 1994 TNT floated off its maritime assets as the independently listed Holyman and the service was renamed Express Navigation.  Among its various shipping activities, Holyman was briefly notable as one of the world's leading fast ferry operators, with several overseas operations, but the company folded soon after taking a majority interest in struggling UK-Belgium operator Sally Line in 1997.
In one of the resulting assets sell-offs, Sea Containers bought Express Navigation in 1999 and renamed the company Seastreak, only for bankruptcy to strike the group in 2006.  One year later, backing from Interlake allowed NEFF to acquire the operation and its four vessels – SEASTREAK NEW YORK, SEASTREAK NEW JERSEY, SEASTREAK WALL STREET and SEASTREAK HIGHLANDS– which had entered service in May 2001, December 2001, September 2003 and March 2004 respectively.
These catamarans joined the three 149-passenger vessels that Jim had commissioned for NEFF. He had entered the family's newly-acquired Interlake business as a 22-year-old marketing graduate, but left after 13 years to pursue a brave ambition – despite having no formal technical training, he wanted to build ships.  At Interlake he had sliced a 25,000-ton ship in two and converted it into a barge and tug.  The project encouraged him to lease a shipyard in Rhode Island with plans to build tugs, tour boats and high speed monohull ferries.
By 2003 he had raised his sights, building the catamaran OCEAN STATE at Merryfield Roberts in Bristol, Rhode Island, and forming NEFF to run the vessel on his new Providence-Newport service.  Using a different Incat Crowther design, sister vessels WHALING CITY EXPRESS and MARTHA's VINEYARD EXPRESS followed in 2004 and 2005, both from Derektor Shipyards of Mamaronack, New York.
Expanding into Seastreak in 2007 seemed like a natural marriage, but as Jim recalls: "In some ways the deal couldn't have come at a worse time because of The Crash.  About 30% of our customers lost their jobs and fuel prices hit their peak, going from USD 1 to USD 4.5 per gallon.  That's a big difference when you're buying 2.5 million gallons of diesel per year!  Meanwhile we had to find the money to rebuild the engines and jets because they were in a bad state. Fuel prices reverted just in time to save us."
Looking ahead
These days Seastreak is in prime condition to invest in its future.  In another major initiative, the operator has made what it readily admits is a long-overdue quantum leap in customer-facing software, signing with Hogia Ferry Systems of Sweden for the company's BOOKIT reservation, ticketing and check-in solution. Under the agreement, the system is coming on stream in two stages, starting with the seasonal routes this spring and with commuter routes due to follow in 2019.
Seastreak's current online booking process is due for a redesign. There is limited facility onmobile devices, and tickets have to be collected at terminals. Boarding for the commuter routes is on an unsophisticated 'first come, first served' basis, although ticket book holders are given preference.
Director of marketing Brett Chamberlain notes: "Right now our website takes customers to the point where they want to travel but we have challenges converting that into an online sale, which is what customers want.  Our new reservation system will allow us to redesign our e-commerce process, and offer a far more enjoyable purchase experience.  It took time to convince the board that acquiring this technology would improve our revenue because traditionally the company's focus has been on operating costs.  We said if it's easy to buy, you're more likely to buy."
Recalling meetings with several potential providers, he continues: "We found very few that focus on the ferry industry in the way Hogia does. They have invested heavily in their API (application programme interface), which is critical to maintaining seamless transfer of data between our existing systems and our new e-commerce platform.  Beyond this, we were impressed with their attitude – there was no 'we can do anything you want' sales hype.  As a family-owned company, their work ethic is similar to ours and we trusted them to deliver."  Jim Barker adds: "The Hogia founder took the trouble to see us when we visited them in Gothenburg and we recognised an immediate connection with family values."
As well as the fleet and online investments, Seastreak is enhancing the customer experience with upgrades to shoreside infrastructure.  The novel Highlands terminal is a large barge, where the previously unused upper deck has just been fitted out to provide a luxury waiting area.  Future plans include a similarly equipped terminal at Atlantic Highlands and improved shelter at the publicly-owned Manhattan piers.
New blood for the Seastreak fleet
Built by Gulf Craft of Franklin, Louisiana, SEASTREAK COMMODORE features a proven, high stability hull design from Incat Crowther with an overall length of 150 feet, a 40ft beam and a draught of 6.5ft.  Carrying up to 600 passengers, it will be the largest capacity high speed ferry to be certified within the US Coast Guard's K-class scale.  A service speed of 35 knots will be provided by four sets of Tier 3 MTU 12V4000 low emissions diesel engines and Rolls Royce S4S63 waterjets.  Other top-end equipment includes navigation and communications systems from Furano of Japan and Simrad Technologies, while passenger facilities include luxury Beurteaux seating, panoramic windows, a saloon bar, high-tech air conditioning, LED lighting, flat screen TV's, WiFi service and multiple dedicated charging stations.
The newbuild will operate alongside the four ex-Sea Containers vessels, which were constructed by Gladding Hearn in Somerset, Massachusetts.  They are 141 feet long, 34ft wide and have a draught of 6.43ft.  All were originally driven by four Cummins KTA50M2 engines and Kamewa A50 waterjets, but re-powering began in 2012 when SEASTREAK WALL STREET was equipped with two MTU 16V4000 diesels paired with Servogear CPP controllable pitch propeller systems.
Re-powering of the sister trio was scheduled at the rate of one per winter under the upgrade programme launched in 2016. Four sets of Tier 3 MTU 16V4000 diesel units and Rolls Royce Kamewa 63S4 waterjets were specified for each vessel, enabling 35 knots.  Assigned to Midship Marine of Harvey, Louisiana, the process began with SEASTREAK NEW YORK, continued in 2017 with SEASTREAK NEW JERSEY and will be completed with SEASTREAK HIGHLANDS this coming winter.  The upgrades also include interior refurbishment with new seating, carpets and windows.
The three vessels dating from Jim Barker's NEFF venture complete the fleet.  The 65 x 24ft OCEAN STATEhas a draught of 5.5ft and a service speed of 27 knots. Propulsion is via two Detroit Diesel 12V2000 engines – rebuilt in 2016 – and twin ZF propellers. WHALING CITY EXPRESS and MARTHA'S VINEYARD EXPRESS measure 95 x 28ft with an 11ft draught, each operating at 28 knots through two MTU 16V2000 diesels driving fixed pitch propellers.
---
Filed Under: Press