Dear Seastreak Customers,
The health and safety of our customers and employees is our highest priority, so we want to outline the policies we have adopted to address our shared health and safety concerns in light of Coronavirus (COVID-19):
Reduced Vessel Capacity
We will be operating at reduced capacity on all vessels which will allow for more personal space to facilitate social distancing.
Requiring Face Covering
During this time, all passengers are required to wear face coverings while inside our vessels and terminals. These indoor areas include the first floor main cabins, bar areas, and the second deck interior areas. Passengers are also required to wear face coverings during the entire boarding and disembarking processes.
Seastreak crew members will continue to monitor vessels and terminals to ensure that these policies are being followed at all times. Failure to comply may result in passengers being declined passage on future trips.
The CDC has provided guidance pertaining to cloth face coverings here.
Consulting with Experts
We have partnered with Moran Environmental Recovery (MER) to provide our employees and management team with a customized cleaning and disinfection training program based on guidelines from the Centers for Disease Control and Prevention (CDC), and tailored to our business and our vessels to ensure that we are well equipped to deliver the safest possible travel experience for our customers. MER is a specialized Environmental, Industrial, Mechanical, and Emergency Response Service company that provides expert emergency response and preparedness services to deliver training, preparedness and response to clients in the Energy, Rail, Government, and Marine industries. MER specializes in delivering safe and regulatory compliant response services, and is experienced in infectious disease and HAZMAT decontamination and cleaning services.
Learn more about MER's COVID-19 response capabilities here.
Allowing for a Touch-Free Experience
We are asking passengers to drop all paper tickets in an envelope while boarding the vessel instead of handing them to Seastreak staff members: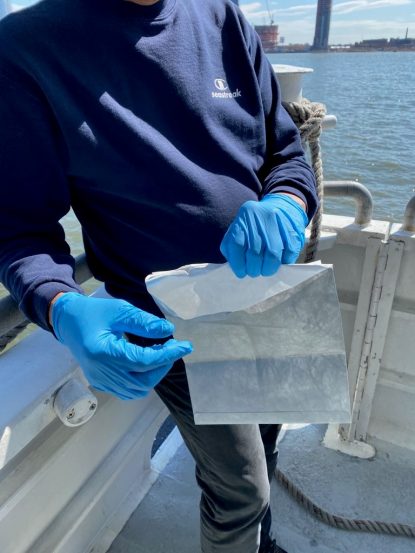 Facilitating an Environment for Social Distancing
Our exterior decks are open to provide access to fresh air: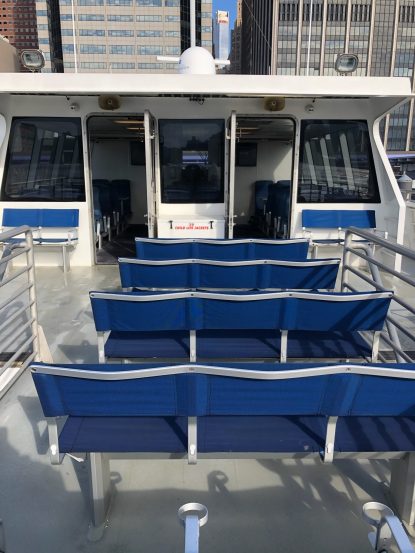 Enhancing Vessel Cleaning Protocols
Our crews are diligently wiping down high-touch surfaces including handrails, armrests, door handles, and restrooms with disinfectant between and during runs, using cleaning agents that are deemed effective and safe for these purposes: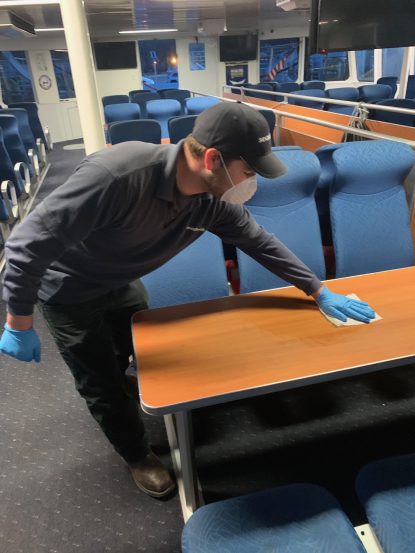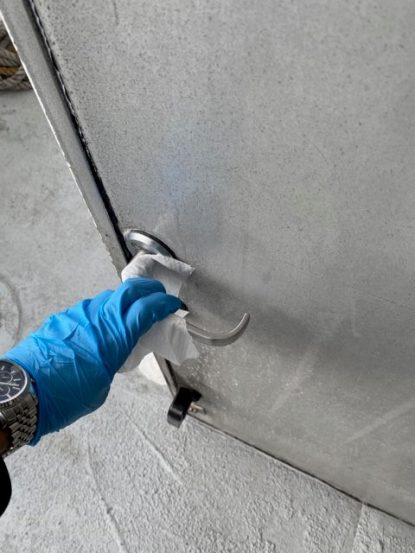 Hand sanitizers are located on walls outside of all restrooms. Restrooms will be cleaned frequently during and between runs, as well as per passengers request.
We are increasing the frequency of steam-cleaning and sanitation services on our vessels and in our terminals:
New Bedford Specific Initiatives:
We ask that customers have e-tickets ready and available upon boarding for contactless scanning.
Reduced Shuttle Bus Capacity
We will be operating at reduced capacity on our shuttle buses which will allow for more personal space to facilitate social distancing.
Offering Premium Parking
We are offering premium parking spots in our upper lots that are within walking distance to the ferry terminal. These spots can be reserved via our website by adding 'premium parking' during the ferry ticket checkout process.
Instituting New Valet Protocols
Pay for valet service via your mobile device on your return day (visit our New Bedford route page to learn more about this process)
Valet drivers will be wearing face coverings and gloves at all times
Staff will be wrapping all steering wheels with disposable plastic covers in an effort to limit contact
Sanitizing wipes will be available to passengers who want to wipe down their steering wheels when they return to their vehicles
---
While we are working hard to provide safe and sanitized vessels, we also ask riders to take measures to prevent the spread of the Coronavirus. These measures include:
Washing hands with soap and water for at least 20 seconds
Using onboard hand sanitizers (we are well-stocked!)
Covering mouth and nose with tissue or inside of elbow when sneezing
Avoiding close contact with others by allowing at least 6ft between fellow riders while waiting in line
Staying home if you are feeling unwell, or if you have had close contact with someone who is feeling unwell
Wearing a cloth face covering and washing it regularly (see CDC best practices and a tutorial on how to make your own at home here)
A thorough list of CDC guidelines can be found here
Seastreak will continue to monitor the situation, and we will provide updates when conditions change.
Sincerely,
Seastreak
---
Filed Under: Seastreak News