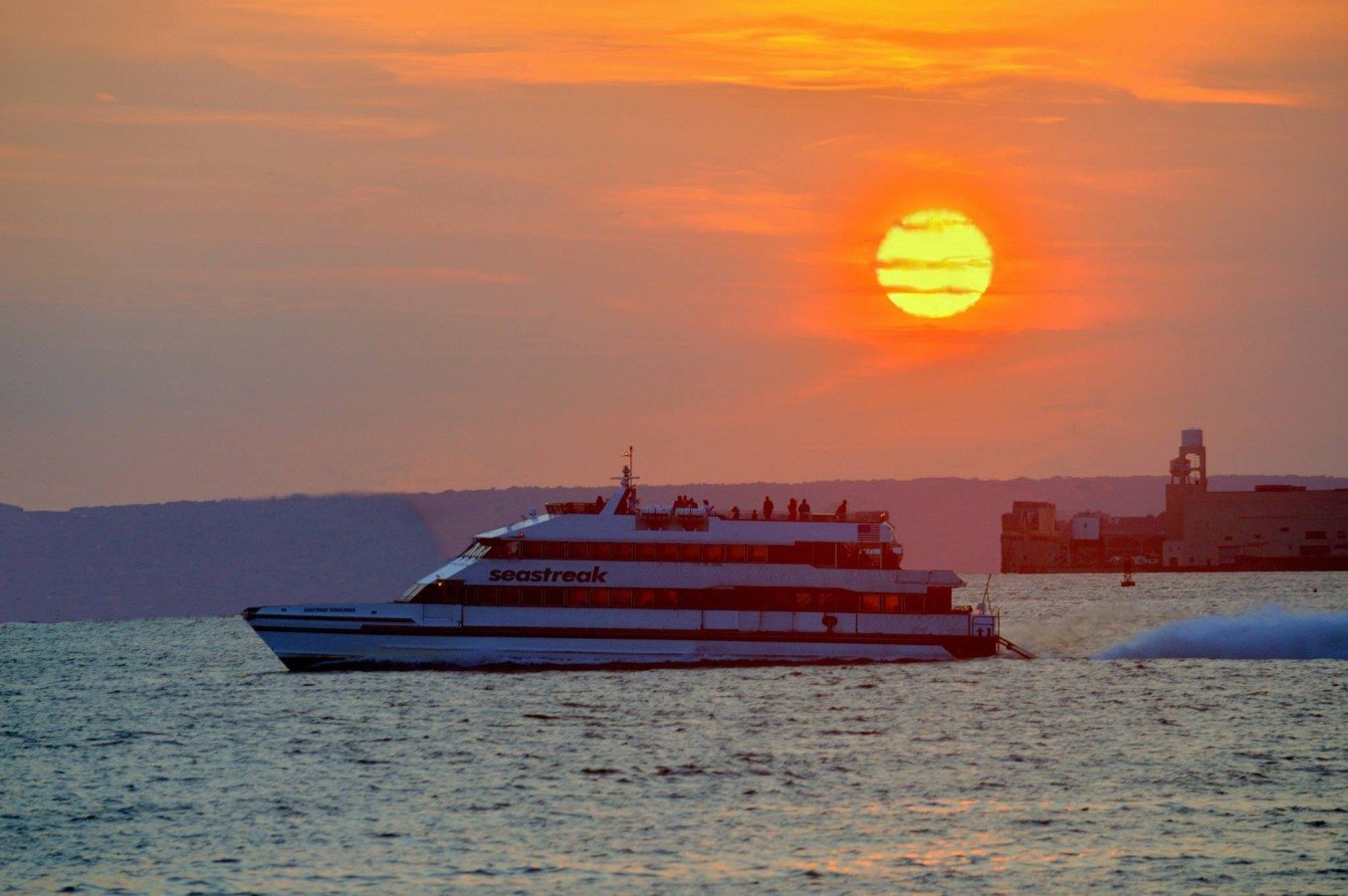 At a Glance
Board a Seastreak ferry in New York City or New Jersey to cruise through the New York Harbor, historic Highlands and Atlantic Highlands, and Sandy Hook point to see some of the world's most iconic features from the water!
Roundtrip from New Jersey's Highlands or Atlantic Highlands or New York City's Wall St. or E. 35th St ports
Multiple times daily, year-round
~ 2.5h
$28 (age 13+), $11 (age 5-12), or Free (age 0-4)
See Schedule & Pricing
See the best of the New York Harbor sites by water
Choose one of four ports to depart and return and set sail on our smooth and comfortable, high tech ferries for a site-seeing cruise around the famous New York Harbor and see the Sandy Hook lighthouse and northern point! This self-guided tour will allow you to relax and enjoy the beautiful sights as we cruise by the Statue of Liberty, marvelous bridges like the Verrazano and Brooklyn Bridges, memorable buildings like the Woolworth and One World Trade Center, a naval weapons station, the South Street seaport, several beautiful lighthouses, and more. Try a day cruise every season and evening/night cruise for five unique experiences!
Unbeatable water views of Manhattan architectural icons

Relax and enjoy a view of the gorgeous Manhattan skyline you can't get from a bus or walking tour. Wave hello to Lady Liberty, marvel at New York's iconic bridges, and witness the towering One World Trade Center. It's the best way to see the city.

Fun, educational, and relaxing, without the traffic or crowds

Try something different and leave the crowded public tour buses and walking tours behind. Enjoy this season's beauty at day or night while you relax and direct your own tour. Just take in the sites, or use our wifi connection and your own web-enabled device to learn about the various sites you're seeing.

Full-service bar, indoor/outdoor seating, and private restrooms

Enjoy the beautiful and historical sites on our open-air top deck or indoors in our climate-controlled cabins with panoramic windows, comfortable seating, a full-service bar, and the convenience of private his/hers restrooms.
"It's amazing how different and cool the city looks from the water. Everyone in New York should see their city this way, at least once."

Seastreak Customer

"I've done the tour bus thing, and though I enjoyed the constant talk track, this was a refreshing change of pace to see some of my favorite sites while drinking a cocktail and just Googling things as I was curious."

Seastreak Customer

"There's such a neat variety of stuff to see on this tour. One minute there are beaches and lighthouses, the next, a sunset cityscape of glass, stone, and steel."

Seastreak Customer
Schedule & Pricing
Tickets can be purchased at the port of departure. In NJ, they are purchased at the Atlantic Highlands and Highlands ticket offices; in New York City, they are purchased on the boat at time of boarding. Advanced purchase not required.
Schedule
Weekday Departures
| Highlands, NJ | Atlantic Highlands, NJ | Wall St., NYC | E. 35th St., NYC |
| --- | --- | --- | --- |
| 5:20 PM | 5:35 PM | 3:00 PM | 2:45 PM |
| 6:25PM | 6:10 PM |   |   |
Weekend Departures
| Highlands, NJ | Wall St., NYC | E. 35th St., NYC |
| --- | --- | --- |
| 9:30 AM | 10:25 AM | 10:45 AM |
| 12:00 PM | 3:30PM | 3:10 PM |
| 4:30 PM |   |   |
| 7:30 PM |   |   |
Pricing
| Adults | Kids (Ages 5-12) | Kids (0-4) |
| --- | --- | --- |
| $28 | $11 | FREE |
The full site-seeing cruise is approximately 2.5h from any of the four departure ports.
The tour is self-guided, meaning there is no onboard narration or audio tour devices provided, as some passengers are using the ferry for one-way transit between ports. We've found our customers love using some of their favorite online reference sites or apps on their own devices using our high-speed, free, onboard wi-fi during the tour to learn more about different sites along the way.
In addition to many notable buildings across the NYC skyline, here are just a few of the many sites you will see, in no particular order, while on the New York City and Sandy Hook site-seeing cruise: Battery Park, Brooklyn Bridge, Brooklyn Navy Yard, Governors Island, Manhattan Bridge, Naval Weapons Stations (NWS) Earle, Romer Shoal Lighthouse, Sandy Hook Lighthouse, South Street Seaport, the Statue of Liberty, Verrazano Bridge, Wall Street, and the Woolworth Building.
CAUTION: Disembarking from the Seastreak vessel at any port other than the one you boarded, will result in you having to purchase a new ticket upon returning to the vessel. Many customers choose to disembark for several hours at one of the stops, and hop back on to a later ferry to finish the tour and return to their original location, but this WILL require the re-purchase of a new ticket for each person in your party, at the full price, in order to get back on. Please make sure to note the schedule if you choose to do this so you don't miss the last boat.
More Seastreak adventures await…